IK Multimedia iRig UA - Universal Guitar Effects Processor for all Android Devices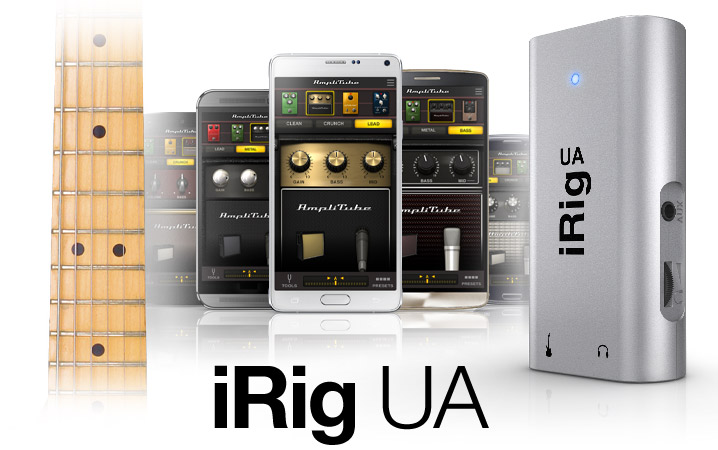 The first universal guitar effects processor and interface for all Android devices
Experience near-zero latency guitar and effects processing with AmpliTube on Android devices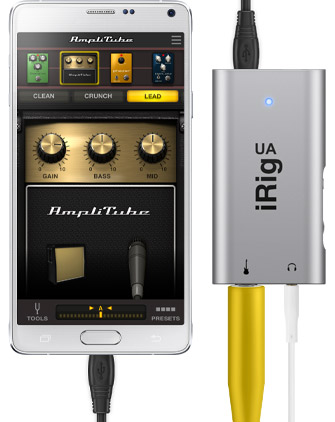 A new era for making music on Android has arrived: iRig UA is the first digital effects processor and interface to allow universal near-zero latency processing with AmpliTube on all Android devices compatible with Android 4.0 or higher and that support host mode/USB OTG. Now you can enjoy high-quality real time effects processing on your Android device no matter whether it's from Samsung, Sony, Motorola, LG, HTC, Xiaomi or any other popular manufacturer.
iRig UA features a first-of-its-kind built-in digital signal processor (DSP) that solves the Android platform's issue of manufacturer fragmentation and OS latency by moving all processing to an external accessory. The key to the solution lays in iRig UA's DSP and its built-in companion app, AmpliTube UA. The DSP inside iRig UA provides the latest generation of mobile modeling technology, which can be controlled via AmpliTube UA — this provides you with an easy-to-use graphic user interface that lets you edit your guitar rig and save or recall presets instantaneously.
A versatile system, iRig UA can also be used as a digital recording interface when connected to a Samsung Professional Audio compatible device or smartphone or tablet with Android 5.0.
With iRig UA, the most popular mobile digital guitar interface and virtual guitar multi-effects processor app have finally landed on Android.
---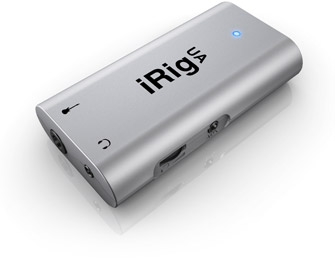 Features
Works on any Android device with host mode/USB OTG
Near-zero latency digital FX processing
Digital audio recording on Android 5.0 and Samsung Professional Audio Devices
32-bit digital signal processor
24-bit converter with 44.1/48KHz sample rate
High-definition, low-noise preamp
Includes AmpliTube UA
Analog aux input for play-along and practice
Headphone output and volume control
Multicolor LED
Ultra-compact and lightweight design
Micro-USB port
---
Plug-and-play on Android
iRig UA sounds great right out of the box. Just plug it into your Android device via the included OTG connector and you'll be ready to go. It features a built-in 32-bit digital signal processor, a 24-bit A/D converter, a 44.1/48KHz sample rate, a crystal clear low-noise preamp and an ultra-compact enclosure. With its premium specifications, it's able to provide great sound, extreme portability and an unprecedented cross-platform compatibility.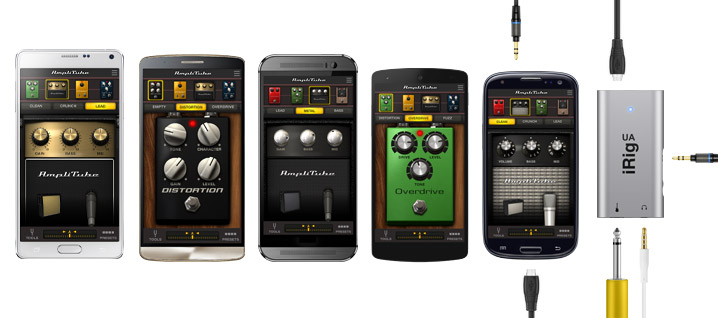 iRig UA's on-board digital signal processor works in conjunction with AmpliTube UA, a special version of IK's powerful guitar and bass multi-effects processor designed specifically for use with iRig UA — because all of the processing is handled on iRig UA, and not on the Android device, it's able to provide consistent near-zero latency performance (down to 2 ms round-trip total latency) that's independent of the make and model of your connected smartphone or tablet.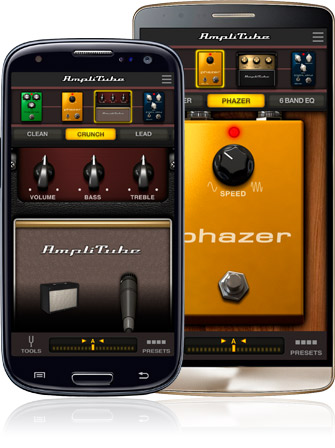 AmpliTube UA has landed
iRig UA comes with AmpliTube UA, a full-featured version of the guitar and bass multi-effects processing app that's revolutionized the way musicians make music while on the go.
AmpliTube UA provides a generous and expandable library of fully adjustable models of some of the most coveted gear in music history. It lets you create and process your tone with a guitar or bass rig with 3 stompbox effects, an amplifier and a cabinet with IK's accurate volumetric response modeling, a microphone and a tuner. And, unlike other editions of AmpliTube, AmpliTube UA lets you get even more creative by letting you place your stompbox effects either before or after the amplifier in your signal chain.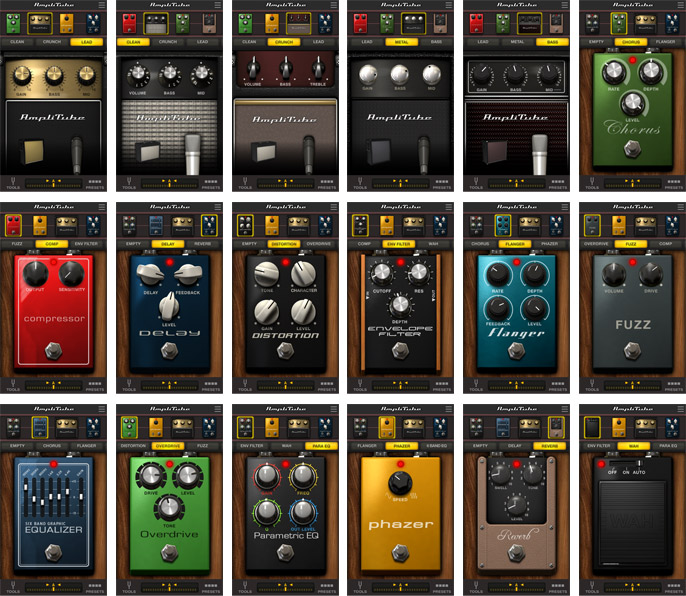 Comprehensively connectible
The pairing of iRig UA and AmpliTube UA is perfect for when you need to practice while on the go. iRig UA features a 1/4" input for a guitar, bass or other line-level instrument, a micro-USB to OTG cable and an 1/8" headphone output with volume control.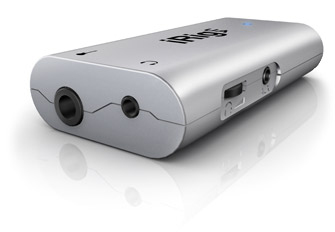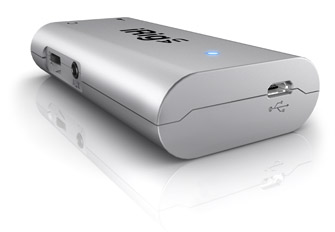 It also sports a 1/8" input that lets you connect your Android device or other external sound source so you can jam along to your favorite tunes while using the power of AmpliTube.
IK Multimedia iRig UA - Universal Guitar Effects Processor for all Android Devices
0 reviews
0 review(s)
0 review(s)
0 review(s)
0 review(s)
0 review(s)
Digital Downloads (buying software)

All software marked as "serial download" or "digital download" will be delivered via email within normal office hours.
Simply add the software to the basket and at the delivery stage in the checkout please select "Digital Download - Software by email" as your delivery method

Delivery Charges (Main Products)

All orders over £39.00 will be delivered free via our standard delivery 2-3 days (UK Mainland)
If you need your item faster we also offer a Priority Tracked service at £3.99 (1-2 days) or Next Day Tracked £6.99
(please ensure you add a mobile number to your order for tracking)
Saturday delivery is available when ordered before 2pm (Mon-Fri)
All orders below £39.00 will start as low as £2.99 depending upon weight and qty(s) (UK Mainland)


All Delivery options will be available at the delivery stage in the checkout
EU Delivery Times
Non UK Mainland Addresses please allow 1-3 Days
Delivery To Belgium / France / Germany please allow 3-4 Days
Music PC Systems - Please allow 5-7 Working Days build time (UK) 7-14 (Rest of the World)
French - Pour la Livraison s'il vous plaît permet en France 2-4 Jours
German - Für Lieferung Nach Deutschland erlaubt bitte 2-4 Tage
Delivery Notes
On delivery you must inspect the goods carefully for damage as Inta Audio is unable to accept responsibility for damage in transit, shortage of delivery or loss of products unless the customer advises Inta Audio of such within three working days from the date of delivery.
Returns Policy

We ask that you follow these guidelines to help us process your return as quickly and efficiently as possible:

1. Please keep your order reference to hand. This confirms your original order and gives us the necessary details to authorise the product's return.

2. Contact our Customer Services Team on 02476 369898 (or e-mail cs@inta-audio.com). We will then send you an RMA number and returns form which needs to be completed and sent back with the returned item(s).

3. (If the order has been unpacked) re-package it to ensure that it is being returned in its original condition. Please make sure all items relating to the product are returned, including manuals and cables.

4. When returning an item please obtain a 'proof of postage' receipt from the Courier.


Returned items must be mailed within 10 days of when the RMA Number has been issued. Items received with a post date 30 days after your requested return will NOT be eligible for refund.

Please note: Our returns policy is quite straightforward but there are a number of conditions that we ask our customers to comply with before applying:

1. It is your responsibility to request a return. If you don't tell us you want to make a return, we don't know. Once you do tell us, we will do everything we can to action it.

2. If you have not requested a return within 28 days of receiving an order, we will have assumed that you are intending to keep it and we will not authorise a return.

3. We always refund the payment according to how the original purchase was made and aim to do so within 72hrs of the return being received by us.

4. Returned goods are liable for a restocking fee of 15% towards handling and repackaging if the order is not returned in its original, unopened packaging. This charge will be subject to our inspection of the returned goods.

5. Delivery charges will not be refunded unless the delivered goods are faulty.

6. Replacement products are dispatched immediately after the returned goods have been received and accepted by Inta Audio.

7. Items that develop a fault within 30 days of delivery are eligible for a replacement or a refund. Delivery costs are also reimbursed for faulty items. Please contact our Customer Services Team on 02476 369898 if you believe your item has developed a fault.

Finally, please remember that notifying us of your intention to apply for a return, saving the delivery paperwork and keeping the order in its original packaging will help both you and Inta Audio to process the return quickly.

If you have any questions about our Returns policy please telephone us on 02476 369898 or email us at cs@inta-audio.com.