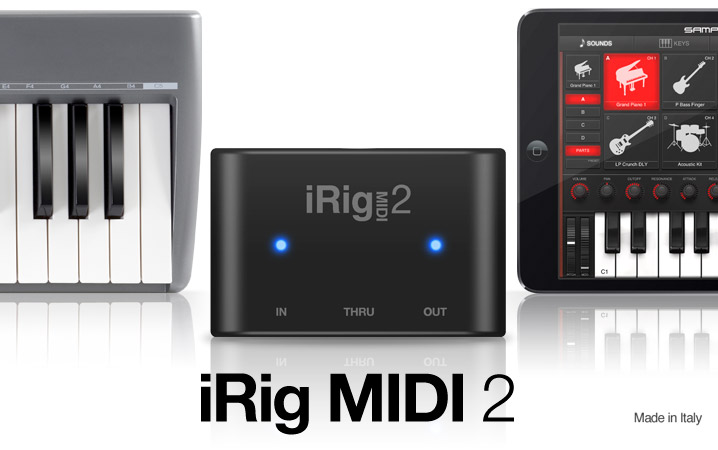 Introducing iRig MIDI 2, the first Lightning/USB compatible mobile MIDI interface that works with all generations of iOS devices as well as Mac and PC. It features everything you loved about iRig MIDI but with even greater pocketability, connectivity and control. Simply put, it's the perfect MIDI solution for the musician on the move.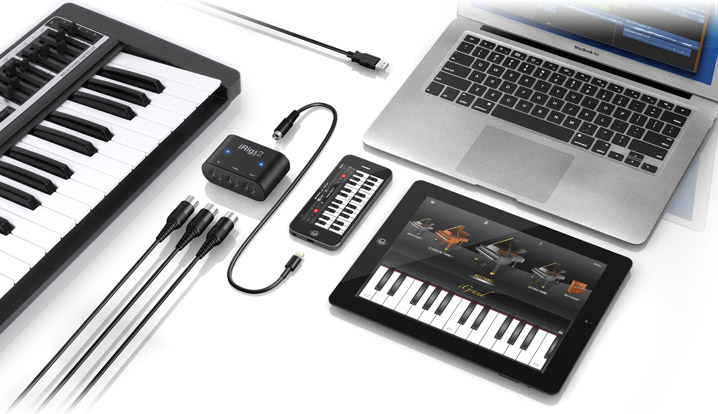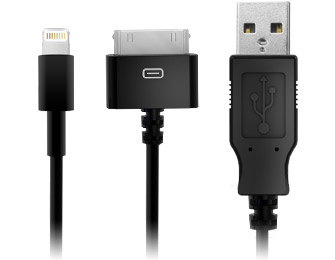 Compatibility is key
As we've said, iRig MIDI 2 is the first portable MIDI interface that's compatible with Apple's Lightning cable. This, however, does not come at the expense of universal support. At the center of iRig MIDI 2 is its detachable Mini-DIN connector, which lets you attach a Lightning (included), USB (included) or 30-pin cable (sold separately) depending on the mobile device or computer that you'd like to use. Now you have the flexibility to use MIDI with whatever device you want, anytime, and anywhere.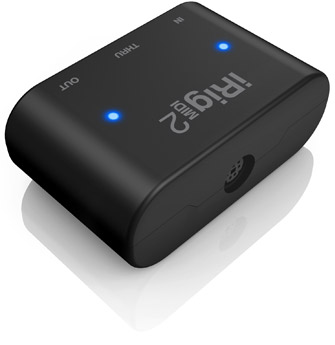 It's all about the connections
iRig MIDI 2 is small, but it can be made even smaller when all of its cables are detached. Because of its Mini-DIN connector, you can remove all cables for extreme portability: Now you have something that you can easily carry with you in your pocket to any gig, performance, studio or jam session. In addition, all iRig MIDI 2 cables are bumper friendly, which means you can connect and start jamming without having to remove your mobile device's protective carrying case.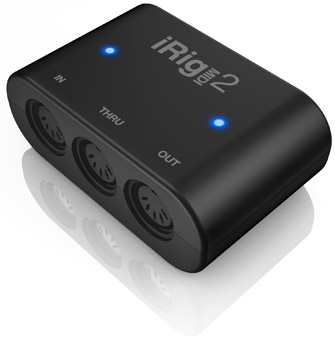 Mobile MIDI like never before
Like iRig MIDI before it, iRig MIDI 2 features three MIDI ports: IN, OUT and THRU. But this time around the ports are standard-sized and require no adaptor or special cable to use — in fact, you can use any standard MIDI cable you'd like. These ports give you all the control and connectivity that MIDI allows: Use the IN port to use external keyboards and controllers to play your favorite software sound modules and synthesizers. Use the OUT port to control external hardware or synthesizers from your mobile device or computer. And you can use the THRU port to send MIDI data to multiple instruments at once. Monitoring MIDI data with iRig MIDI 2 is easy, it comes with two LEDs that give you an at-a-glance readout of the note data as it passes through the IN and OUT ports.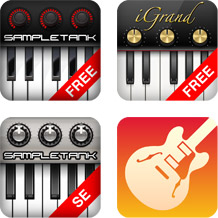 A whole suite of apps
With iRig MIDI 2, you get more than just a supremely portable MIDI interface; you also get a full suite of music creation apps. As soon as you open the box you'll be ready to go. iOS users get two of IK's most popular mobile apps: SampleTank FREE is a sound and groove workstation filled with hundreds of high-quality instruments and patterns.iGrand Piano FREE is a concert-quality piano app that puts world-class piano sounds at your fingertips. And Mac and PC users can enjoy the full creative power of SampleTank 3 SE, a free version of IK's next generation SampleTank 3 desktop sound workstation. Beyond all that's included, iRig MIDI 2 works with all MIDI-compatible Mac and PC software as well as the entire spectrum of Core MIDI apps for iOS such as GarageBand, Cubasis, Beat Maker 2, Auria and many more.
A legacy of superior Italian design
iRig MIDI 2 has been designed and manufactured in Modena, Italy — a city famous for high-performance Italian industrial design. Like all IK products, it's been through rigorous quality testing to ensure the utmost in dependability — iRig MIDI 2 is housed in a durable rubberized enclosure designed to last performance after performance and gig after gig. IK Multimedia uses only the best components, materials and processes to create solid, smartly manufactured products at an affordable price.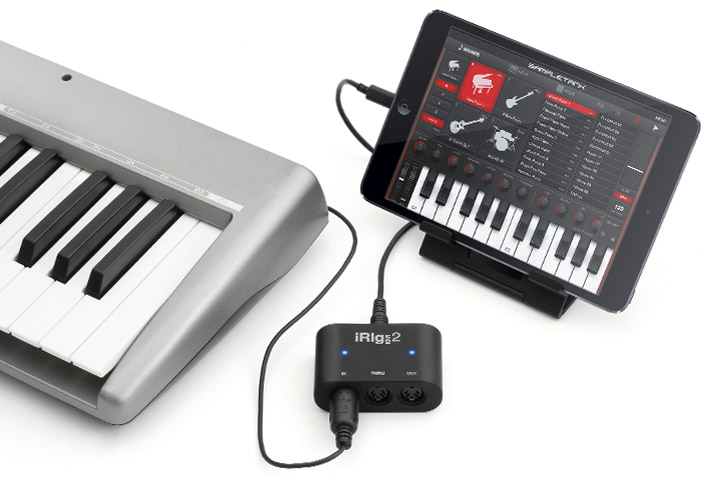 Features
Universal MIDI interface for Lightning iOS devices as well as all prior generations of iPhone, iPad and iPod touch plus Mac and PC
Ultra-portable, pocket-sized form factor that you can take with you anywhere
Detachable bumper-friendly cables for seamless, universal connectivity
Lighting connector and USB cable included, 30-pin cable available separately
Standard-sized MIDI IN, OUT and THRU ports
MIDI IN/OUT LED indicators for at-a-glance monitoring of MIDI data transmission
Draws power from host device instead of a bulky power adaptor
Comes with a powerful suite of music creation apps SampleTank Free, iGrand Piano FREE and SampleTank 3 SE
Elegant and durable rubberized enclosure
Designed and made in Modena, Italy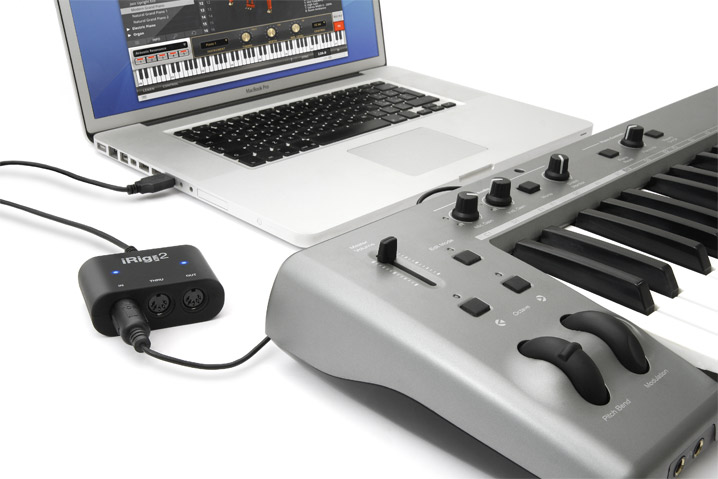 *Midi Keyboard, Macbook, iPad not included*
Mac: Mac OS X 10.6 or later. One free USB port.
Windows: Windows XP (SP3) / Vista (SP1) / 7 / 8. One free USB port.
Compatible with iPhone 5s, iPhone 5c, iPhone 5, iPhone 4s*, iPhone 4*, iPod touch (5th, and 4th* generation), iPad Air, iPad 4th generation, iPad 3rd generation*, iPad 2*, iPad*, iPad mini 2nd generation and iPad mini. iOS 5.1 or later is required.
Require 30-pin to Mini-DIN cable available separately
IK Multimedia iRig Midi 2 - MIDI interface for iOS & Mac/PC
0 reviews
0 review(s)
0 review(s)
0 review(s)
0 review(s)
0 review(s)
Digital Downloads (buying software)

All software marked as "serial download" or "digital download" will be delivered via email within normal office hours.
Simply add the software to the basket and at the delivery stage in the checkout please select "Digital Download - Software by email" as your delivery method

Delivery Charges (Main Products)

All orders over £39.00 will be delivered free via our standard delivery 2-3 days (UK Mainland)
If you need your item faster we also offer a Priority Tracked service at £3.99 (1-2 days) or Next Day Tracked £6.99
(please ensure you add a mobile number to your order for tracking)
Saturday delivery is available when ordered before 2pm (Mon-Fri)
All orders below £39.00 will start as low as £2.99 depending upon weight and qty(s) (UK Mainland)


All Delivery options will be available at the delivery stage in the checkout
EU Delivery Times
Non UK Mainland Addresses please allow 1-3 Days
Delivery To Belgium / France / Germany please allow 3-4 Days
Music PC Systems - Please allow 5-7 Working Days build time (UK) 7-14 (Rest of the World)
French - Pour la Livraison s'il vous plaît permet en France 2-4 Jours
German - Für Lieferung Nach Deutschland erlaubt bitte 2-4 Tage
Delivery Notes
On delivery you must inspect the goods carefully for damage as Inta Audio is unable to accept responsibility for damage in transit, shortage of delivery or loss of products unless the customer advises Inta Audio of such within three working days from the date of delivery.
Returns Policy

We ask that you follow these guidelines to help us process your return as quickly and efficiently as possible:

1. Please keep your order reference to hand. This confirms your original order and gives us the necessary details to authorise the product's return.

2. Contact our Customer Services Team on 02476 369898 (or e-mail cs@inta-audio.com). We will then send you an RMA number and returns form which needs to be completed and sent back with the returned item(s).

3. (If the order has been unpacked) re-package it to ensure that it is being returned in its original condition. Please make sure all items relating to the product are returned, including manuals and cables.

4. When returning an item please obtain a 'proof of postage' receipt from the Courier.


Returned items must be mailed within 10 days of when the RMA Number has been issued. Items received with a post date 30 days after your requested return will NOT be eligible for refund.

Please note: Our returns policy is quite straightforward but there are a number of conditions that we ask our customers to comply with before applying:

1. It is your responsibility to request a return. If you don't tell us you want to make a return, we don't know. Once you do tell us, we will do everything we can to action it.

2. If you have not requested a return within 28 days of receiving an order, we will have assumed that you are intending to keep it and we will not authorise a return.

3. We always refund the payment according to how the original purchase was made and aim to do so within 72hrs of the return being received by us.

4. Returned goods are liable for a restocking fee of 15% towards handling and repackaging if the order is not returned in its original, unopened packaging. This charge will be subject to our inspection of the returned goods.

5. Delivery charges will not be refunded unless the delivered goods are faulty.

6. Replacement products are dispatched immediately after the returned goods have been received and accepted by Inta Audio.

7. Items that develop a fault within 30 days of delivery are eligible for a replacement or a refund. Delivery costs are also reimbursed for faulty items. Please contact our Customer Services Team on 02476 369898 if you believe your item has developed a fault.

Finally, please remember that notifying us of your intention to apply for a return, saving the delivery paperwork and keeping the order in its original packaging will help both you and Inta Audio to process the return quickly.

If you have any questions about our Returns policy please telephone us on 02476 369898 or email us at cs@inta-audio.com.