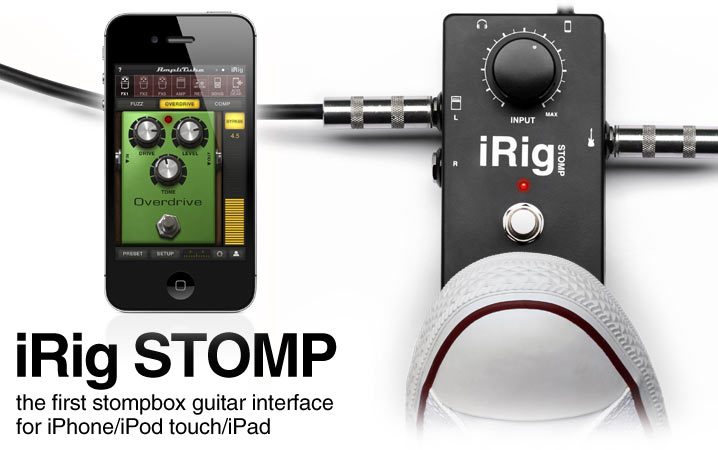 Get Floored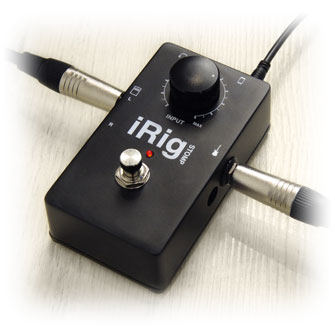 Now Integrate your iOS Apps into your Pedalboard
iRig STOMP is the first stompbox guitar interface for iPhone, iPod touch and iPad. For the first time, guitar and bass players can now integrate their favorite iOS signal processing apps into their existing live pedalboard setup for enhanced tone shaping and effects processing using an iPhone/iPod touch or iPad.
iRig STOMP is based on the wildly popular AmpliTube iRig interface and is compatible with any iOS (dare we say decent sounding?) guitar / amp / instrument app. With its compact, standard stompbox shape, iRig STOMP is packed with many smart features found here for the first time in an iOS audio accessory.
---
iRig Stomp – At a Glance
Compact, durable yet lightweight, aluminum-cast enclosure integrates easily into any traditional pedalboard.
Can be used inline with other effects pedals, or directly connected to amplifiers or PA systems using regular 1/4" guitar cables, with no need for adapters.
Allows precise adjustment of the signal for perfect guitar and bass levels with its large input gain knob.
Active battery-powered output circuit improves headroom, especially when used with high-gain amplifiers in the AmpliTube app, reducing feedback and crosstalk when recording.
The bypass switch allows engaging or bypassing the AmpliTube app chain of effects – like a traditional stompbox – for seamless integration into any existing rig.
Ultra-compact form-factor can be easily carried on the road.
Features a 3.5mm/1/8" jack for silent practicing with headphones.
Comes with the #1 guitar/bass tone shaping app, award winning (it's true) AmpliTube FREE for iOS (Download it free from the App Store)
Can be used with any other guitar processing app that uses the iOS mini-jack
Has an ultra-small, compact profile that can be carried anywhere with ease.
Compatible with iPhone/iPod touch/iPad.
---
How it works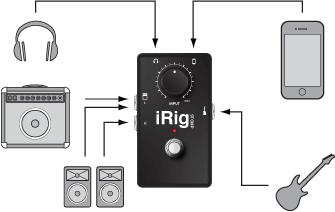 There's Something Familiar about it…
The new iRig Stomp interface is extremely familiar. What is it? Well, it's basically a stompbox interface for your iOS device that allows you to use your iPhone/iPod touch/iPad with your existing pedalboard and rig. Or, you can use just the iRig Stomp. It's constructed from durable military-grade aluminum for indestructible performance (unless you run over it with a tank), and has the same switch you find on todays most popular foot pedals.
Solo or Inline, you'll be Floored
The iRig Stomp has a standard "stompbox" shape and size making it easy to incorporate into your existing pedalboard. It has a standard 1/4" guitar input, and a mono/stereo L&R out jack set for dual purposes for every playing situation. You can use the left/mono out to send the processed signal through more pedals and/or direct to your amplifier, or use the two L/R 1/4" jacks to send a stereo signal to a stereo channel on your mixer. Either way, you'll have fantastic tone thanks to…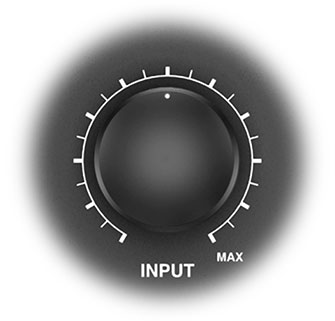 The Big Knob
A large gain knob on the top of the pedal allows you to adjust the input signal gain structure to provide you with the maximum amount of headroom needed for your apps. No more weak signals sent down the line, now you are in control. This knob is a great feature for pushing the preamps of high-gain amp models. Play with it and it will bring a [crap-eating] grin to your face. Seriously.
Active Lifestyle
The iRig Stomp is an active circuit powered either by a 9v battery or by your pedalboard power system. Both ways provide a high quality active system signal with lots of headroom. Whoohooo!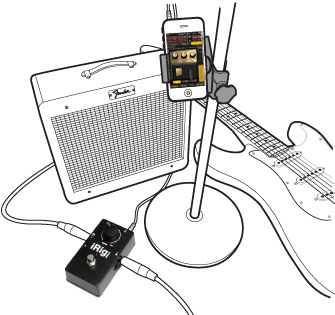 Silence Apps!
Let's say you don't want your iOS device to interfere with a particular song. No problem. The handy dandy chrome device on the top we like to call the "switch" will completely bypass the iOS signal path with a simple click. And, it's ultra quiet so you won't distract your audience with that annoying "switch" sound when using it. You know the one we're talking about.
Honey, can you turn that down?
We also built in a nice feature called the "headphone jack." Now, we didn't invent it, but it sure is a peacekeeper in most households where there are other human-like inhabitants. It doesn't disable the other output jacks, but then again you wouldn't be using it if you were using the other jacks, so it just doesn't matter.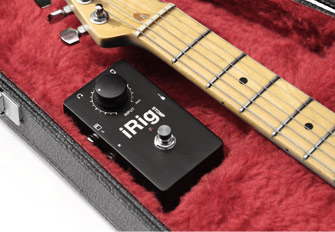 Hey, is that a stompbox in your pants?
It's a "compact" stompbox so basically it's shaped like a deluxe pack of gum. Technically, yes it could fit in your pocket, but it's really designed to accompany your guitar case or pedalboard. It may be small, but at least it's little. Don't lose it.

Specs
Package includes

Dimensions

iRig STOMP
9V Battery
2 meters/6.5 feet 1/8" mini jack cable

70mm/2.76" x 114mm/4.49" x 53mm/2.09"
(W x L x H)
Weight: 270g/9.52oz (Battery included)
---
Requirements
Compatible Devices
iRig STOMP is compatible with iPhone 5, iPhone 4S, iPhone 4, iPhone 3GS, iPod touch (5th, 4th and 3rd generation), iPad 3rd generation, iPad 2 and iPad. iOS 4.3 or later is required.

IK Multimedia iRig Stomp Guitar Stomp Box Interface for iPhone
0 reviews
0 review(s)
0 review(s)
0 review(s)
0 review(s)
0 review(s)
Digital Downloads (buying software)

All software marked as "serial download" or "digital download" will be delivered via email within normal office hours.
Simply add the software to the basket and at the delivery stage in the checkout please select "Digital Download - Software by email" as your delivery method

Delivery Charges (Main Products)

All orders over £39.00 will be delivered free via our standard delivery 2-3 days (UK Mainland)
If you need your item faster we also offer a Priority Tracked service at £3.99 (1-2 days) or Next Day Tracked £6.99
(please ensure you add a mobile number to your order for tracking)
Saturday delivery is available when ordered before 2pm (Mon-Fri)
All orders below £39.00 will start as low as £2.99 depending upon weight and qty(s) (UK Mainland)


All Delivery options will be available at the delivery stage in the checkout
EU Delivery Times
Non UK Mainland Addresses please allow 1-3 Days
Delivery To Belgium / France / Germany please allow 3-4 Days
Music PC Systems - Please allow 5-7 Working Days build time (UK) 7-14 (Rest of the World)
French - Pour la Livraison s'il vous plaît permet en France 2-4 Jours
German - Für Lieferung Nach Deutschland erlaubt bitte 2-4 Tage
Delivery Notes
On delivery you must inspect the goods carefully for damage as Inta Audio is unable to accept responsibility for damage in transit, shortage of delivery or loss of products unless the customer advises Inta Audio of such within three working days from the date of delivery.
Returns Policy

We ask that you follow these guidelines to help us process your return as quickly and efficiently as possible:

1. Please keep your order reference to hand. This confirms your original order and gives us the necessary details to authorise the product's return.

2. Contact our Customer Services Team on 02476 369898 (or e-mail cs@inta-audio.com). We will then send you an RMA number and returns form which needs to be completed and sent back with the returned item(s).

3. (If the order has been unpacked) re-package it to ensure that it is being returned in its original condition. Please make sure all items relating to the product are returned, including manuals and cables.

4. When returning an item please obtain a 'proof of postage' receipt from the Courier.


Returned items must be mailed within 10 days of when the RMA Number has been issued. Items received with a post date 30 days after your requested return will NOT be eligible for refund.

Please note: Our returns policy is quite straightforward but there are a number of conditions that we ask our customers to comply with before applying:

1. It is your responsibility to request a return. If you don't tell us you want to make a return, we don't know. Once you do tell us, we will do everything we can to action it.

2. If you have not requested a return within 28 days of receiving an order, we will have assumed that you are intending to keep it and we will not authorise a return.

3. We always refund the payment according to how the original purchase was made and aim to do so within 72hrs of the return being received by us.

4. Returned goods are liable for a restocking fee of 15% towards handling and repackaging if the order is not returned in its original, unopened packaging. This charge will be subject to our inspection of the returned goods.

5. Delivery charges will not be refunded unless the delivered goods are faulty.

6. Replacement products are dispatched immediately after the returned goods have been received and accepted by Inta Audio.

7. Items that develop a fault within 30 days of delivery are eligible for a replacement or a refund. Delivery costs are also reimbursed for faulty items. Please contact our Customer Services Team on 02476 369898 if you believe your item has developed a fault.

Finally, please remember that notifying us of your intention to apply for a return, saving the delivery paperwork and keeping the order in its original packaging will help both you and Inta Audio to process the return quickly.

If you have any questions about our Returns policy please telephone us on 02476 369898 or email us at cs@inta-audio.com.